CORDURA®︎ Protector Riders T-shirt & Arm Sleeve Product Introduction
Introducing "CORDURA®︎ Protector Riders T-shirt" and "CORDURA®︎ Protector Arm Sleeve" from the original brand "Yami". This crowdfunding It will be a product commercialized in. The concept is best trip in summer riding.
Issues and concepts of interest this time
We focused on the following issues that all riders are worried about in the summer.
Problem 1: Fashionability that deviates from everyday life
Rider-specialized jackets have great functionality, but they are hot and inferior in fashion. While it protects your body well, it is different from everyday fashion.
Challenge 2: High risk in summer when it becomes thin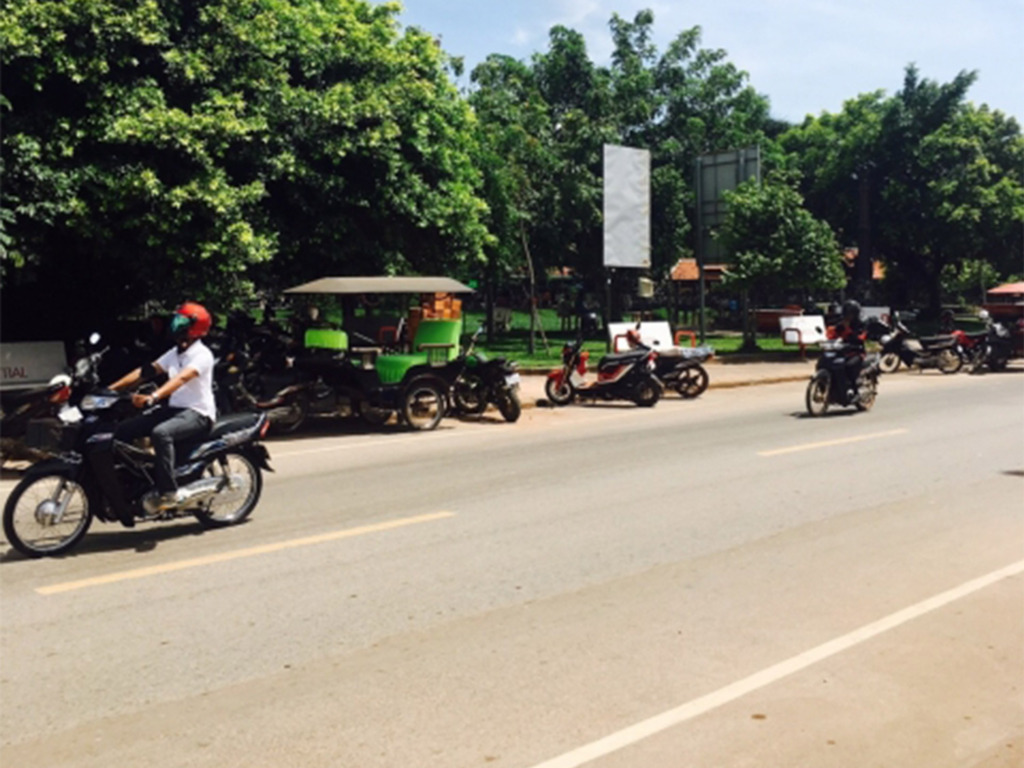 Feel free to ride a motorcycle in the hot summer. I think there are many people who think that boarding with only a T-shirt is open and cool. However, because the exposure of the skin increases, it is often the case that a fall causes damage.
In fact, the odds of dying in a riding accident are higher for chest injuries than for head injuries. It's very dangerous. (Reference above National Police Agency Traffic Bureau Data on the occurrence of traffic accidents during 2017 Than)
Product concept
The main features of the product are as follows.
Feel free to add safety even when riding in the summer. A T-shirt that looks natural even though it has a protector.
Uses heavy ounce "CORDURA®︎" fabric with excellent abrasion resistance. Minimal damage to the body even if it falls on asphalt.
Water absorption and quick drying for the harsh summer environment! Pursuing a comfortable bike lifestyle at any time.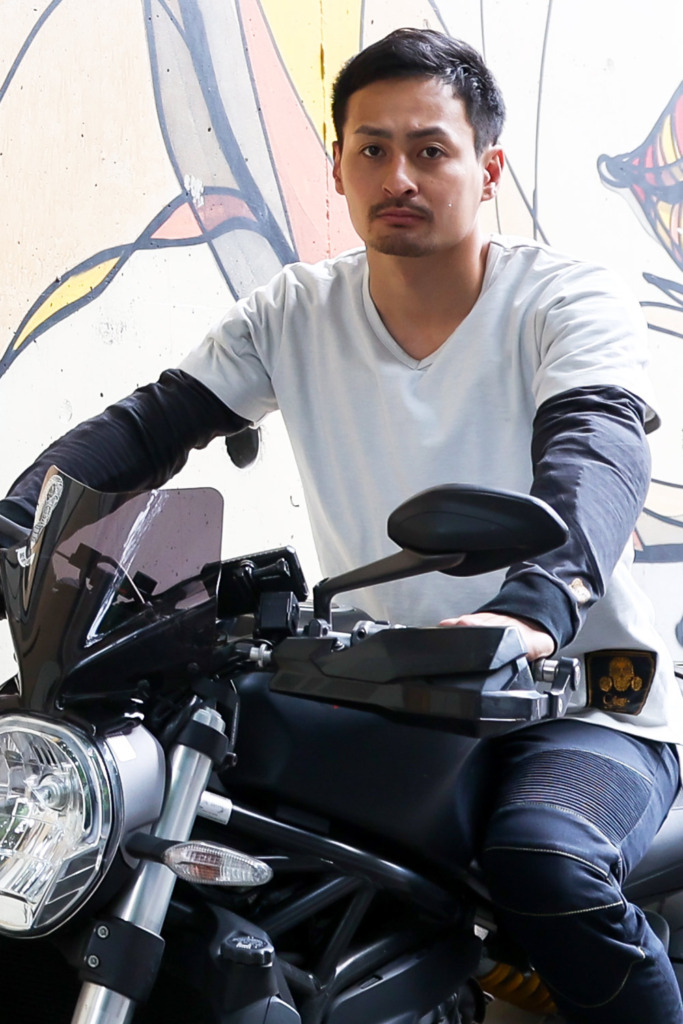 I want safety, but I don't like being awkward. It is a product designed to lead the best riding lifestyle in the summer.
Product Summary
This time, we planned the following three types of products.
1: CORDURA®︎ Protector Riders T-shirt
The first thing I planned was a T-shirt with a protector on the back without breaking the looks of the orthodox T-shirt. The biggest feature is that you can put in a protector to create an atmosphere that is not different from the usual appearance. (The above is taken with the protector actually inserted in the T-shirt)
The protector can be placed so that it can fully guard the back, shoulders, and all directions. And CORDURA®︎ fiber, which has several times the abrasion resistance, is incorporated into the fabric. We use heavy ounce fabric that does not flutter even when driving.
2: CORDURA®︎ Riders Heavy Ounce T-shirt (without lining protector bag)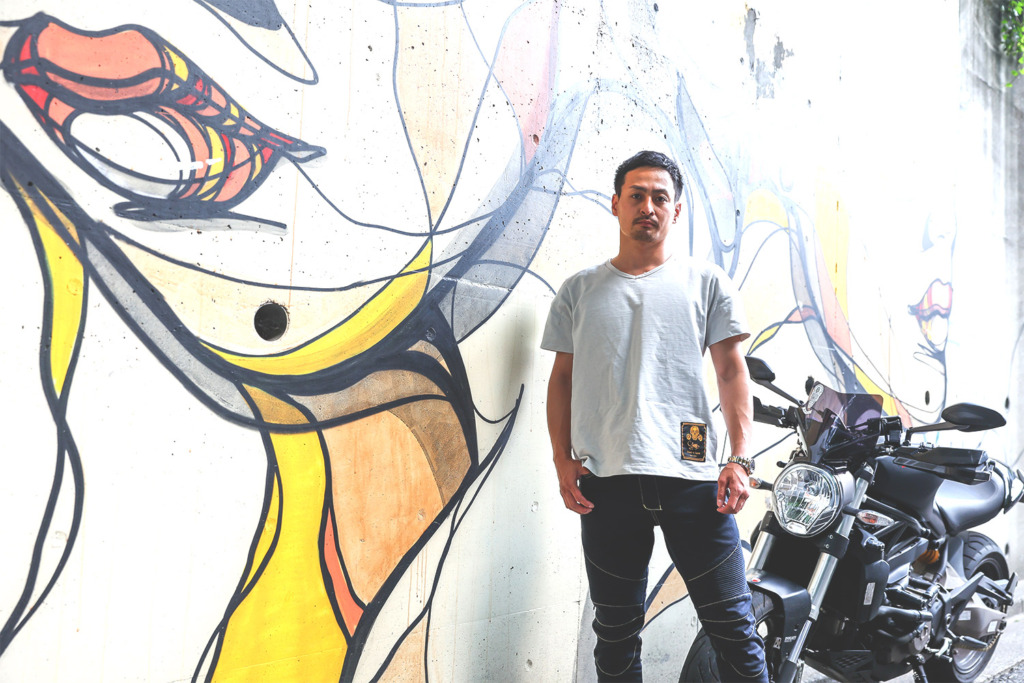 If the upper protector is attached, the cost will be high due to sewing, so the placement of the protector is omitted, and a basic T-shirt using only heavy ounce CORDURA®︎ fabric is planned at the same time.
3: CORDURA®︎ Protector Riders Arm Sleeve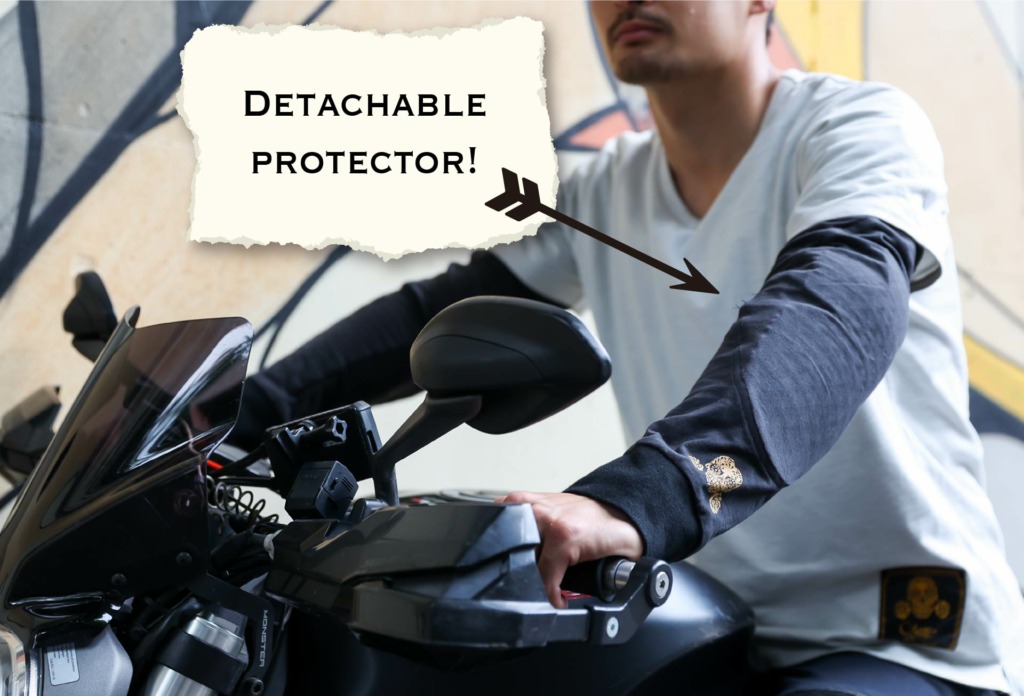 We also plan an arm sleeve with a protector that can be easily attached and detached by matching the taste with the above T-shirt to make up for the weaknesses of the T-shirt.
Product features
1: "As usual" appearance that does not impair fashion
The first thing I was conscious of was the "as usual" look. A feeling of everyday life that cannot be discerned even if the protector is put in a T-shirt, which was achieved through several trials and errors.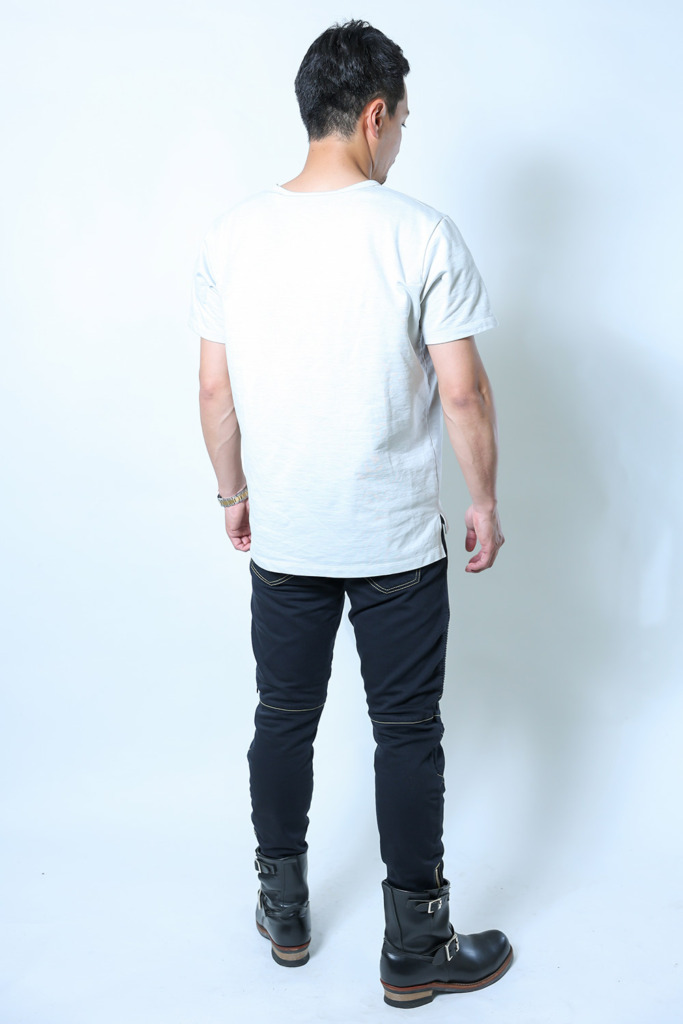 The ground plane of the fabric and the protector is minimized by devising sewing. Of course, the finish is beautiful even if the protector is removed. You can choose according to your preference.
2: All directions protector placement, full guard without compromise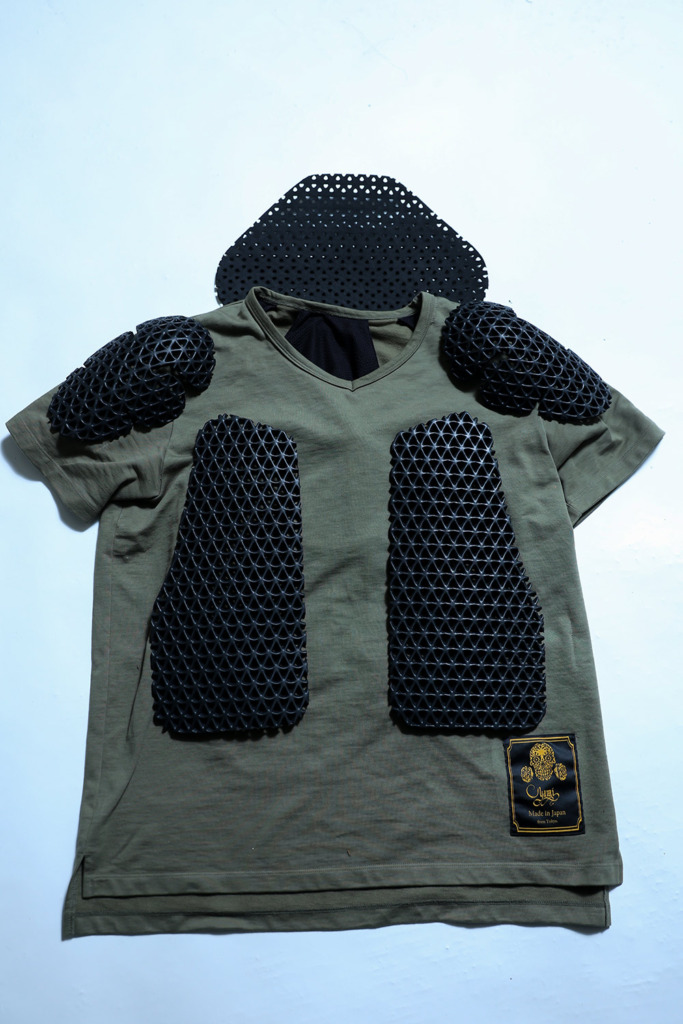 Place the protector in all directions of the T-shirt. Firmly guards the chest, shoulders and back. The chest is the number one injured part of the fatalities in an accident while riding a motorcycle, but we planned to guard it well.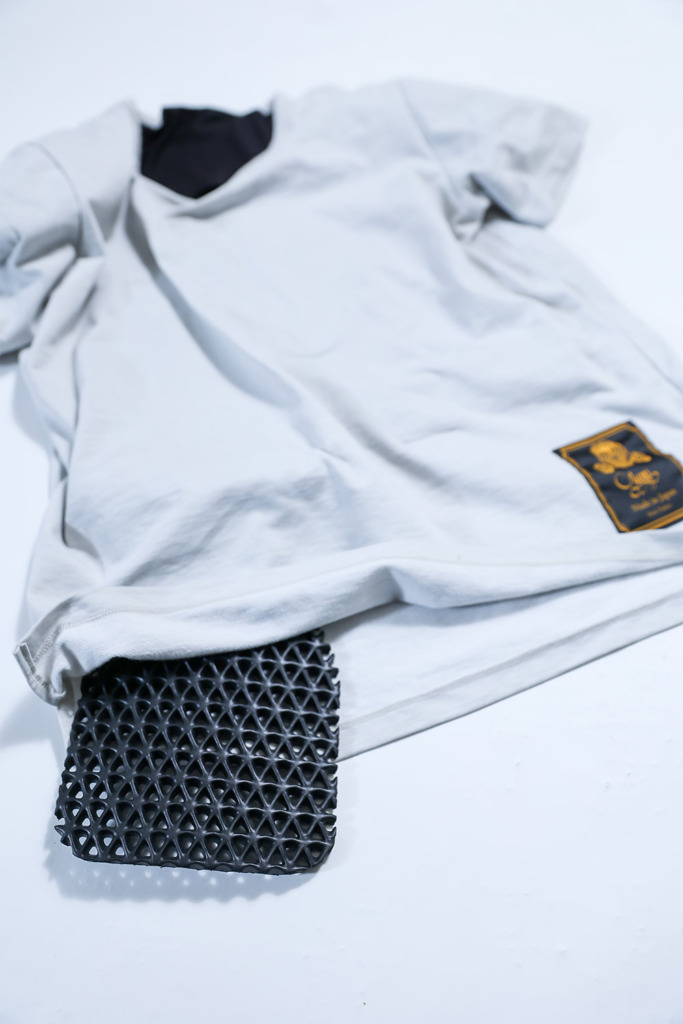 You can remove it as you like.
The protector used is an air-through protector from Rough & Road. A protector that ensures both impact resistance and breathability. Other protectors can be used as long as they are the same size.
3: Use of CORDURA®︎ fabric with excellent wear resistance

CORDURA®︎ is a registered trademark of INVISTA for fabrics with excellent strength and durability. It is a fiber with extremely excellent strength and durability compared to general nylon, which is often used in the military, police, outdoor equipment, etc.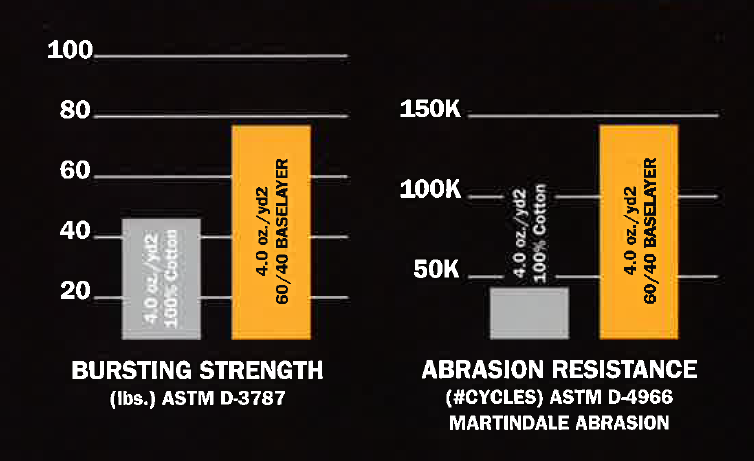 This time, I used a T-shirt fabric that is partially woven with CORDURA®︎. There is a big difference in wear resistance when in contact with the ground. (Refer to the graph above. Provided by the official) It protects against friction when it falls, and there is no need to worry about grate the skin.
4: Ultra-thick 12oz fabric that flutters even when running
For driving comfort, we used heavy ounce CORDURA®︎ fabric.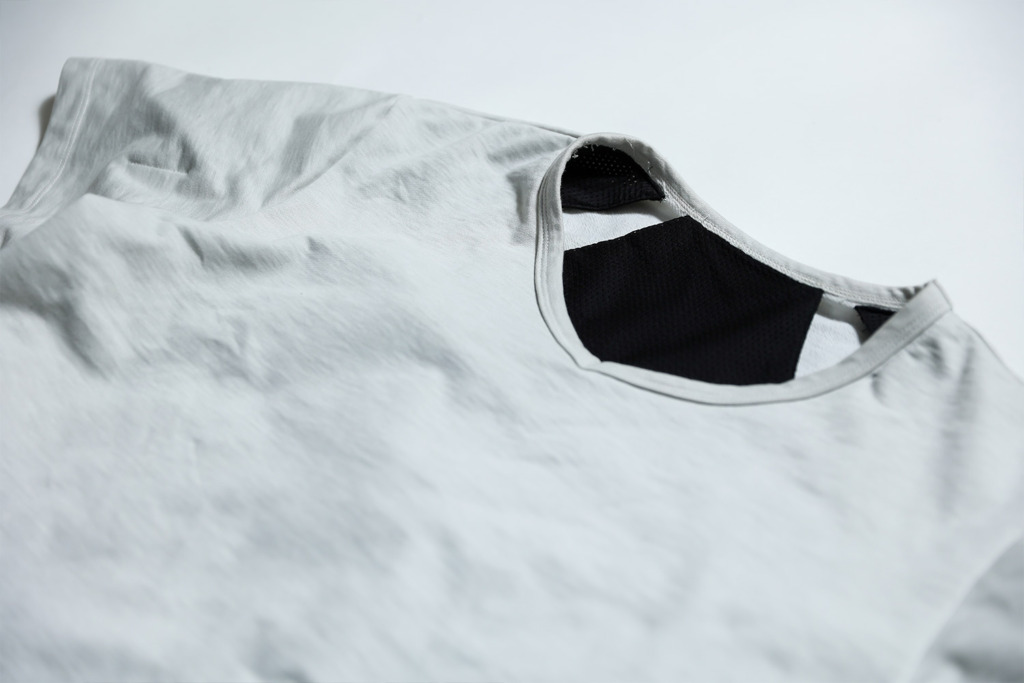 Even though it's a T-shirt, it's about 12oz thick. The slab-shaped surface is also a fashionable point. The back length is slightly longer so that you can lean forward.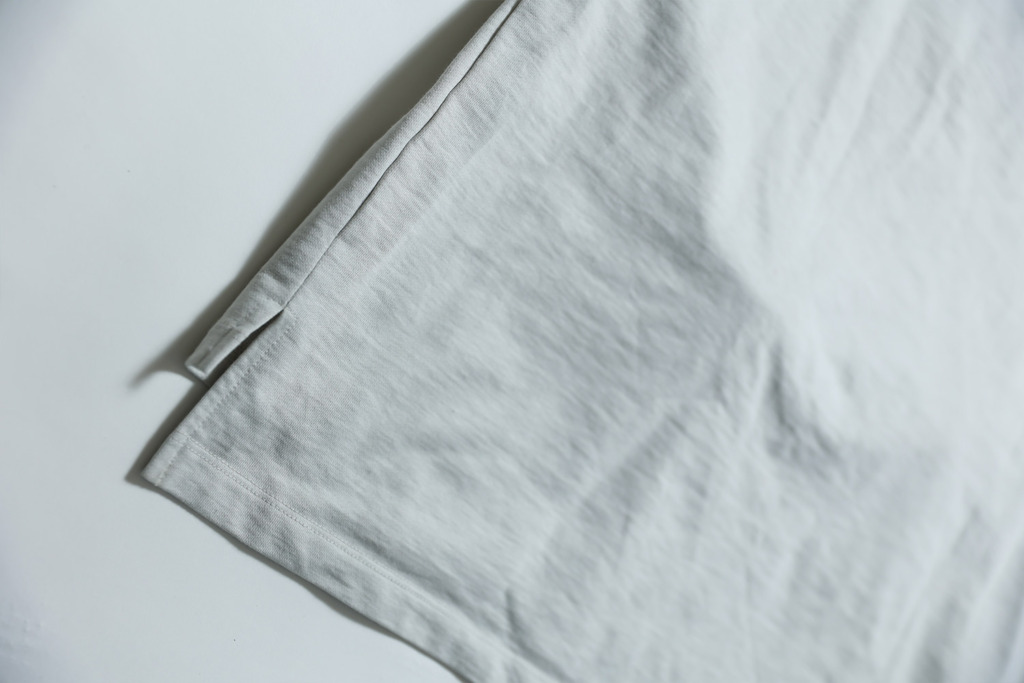 About wearing image of each color of the product
This time, we planned three colors: dark navy, off-white, and olive. Please refer to the following for the wearing image. Here is the body size of the model in the photo.
・Model height:172cm
・Model body weight:65kg
・ Model wear size: M
Off White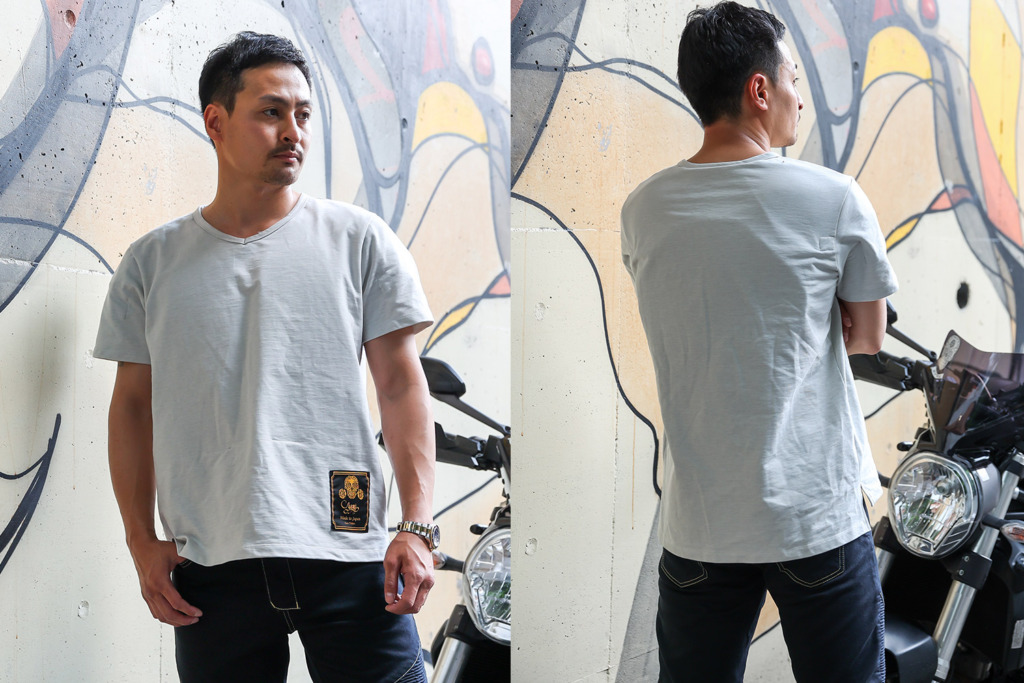 Dark Navy
Olive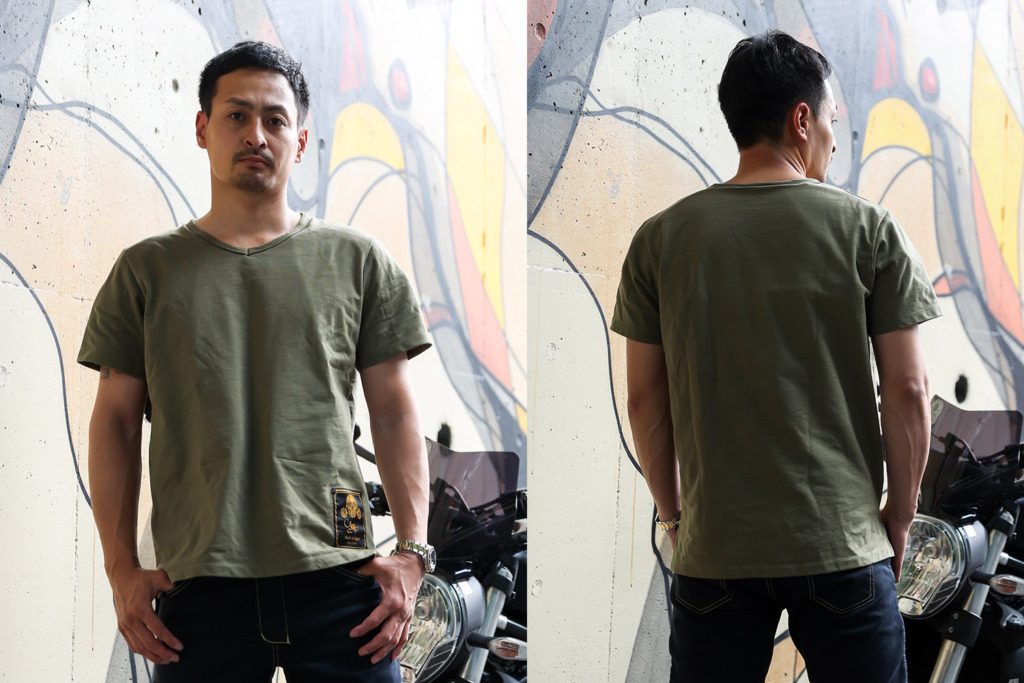 About various product sizes
CORDURA®︎ Riders T-shirt size (cm)
| | | | | |
| --- | --- | --- | --- | --- |
| | S | M | L | XL |
| shoulder width | 42 | 45 | 48 | 51 |
| Chest circumference | 104 | 110 | 116 | 122 |
| Length | 67 | 69 | 70 | 71 |
| Sleeve Length | 20 | 21 | 21 | 22 |
CORDURA®︎ Protector Riders Arm Sleeve Size (cm)
| | | | | |
| --- | --- | --- | --- | --- |
| | full length | Around the cuffs | Elbow circumference | Around the upper arm |
| Free | 49cm | 20cm | 30cm | 30cm |
* Arm sleeves are available in one size only. For men. Ladies can also wear it, but it is a little big.
* The color is black only.
Product purchase page link
Various types are available.
CORDURA®︎ Protector Riders T-shirt
A type of T-shirt that can be attached with a protector. We offer a version that includes a full set of air-through protectors that are ideal for summer, and an optional version for those who want to choose their own protector.
CORDURA®︎ Heavy Ounce Riders T-shirt
Sewing will be expensive if it has a protector, so we have also prepared an orthodox T-shirt version without a protector bag. (It is not possible to attach a protector to the lining. Please be careful not to mistake it for the above.)
CORDURA®︎ Protector Riders Arm Sleeve
Click here if you would like a single arm sleeve with a protector.
[Setup discount! ] CORDURA®︎ Protector Riders T-shirt & Arm Sleeve
10% off the set discount for protector T-shirts and arm sleeves. Please take this opportunity to purchase.
If you have any concerns, feel free to send us a message from the page below.
[blogcard url="http://dark-biker.com/contact-us/"]
Everyone, have a great trip in the summer
And everyone, enjoy the best trip in the summer! Yami will continue to produce various products that can provide the best experience for riders.