[Next crowdfunding coming soon]
Heavy Ounce Riders T-shirt & Arm Sleeve
with protector!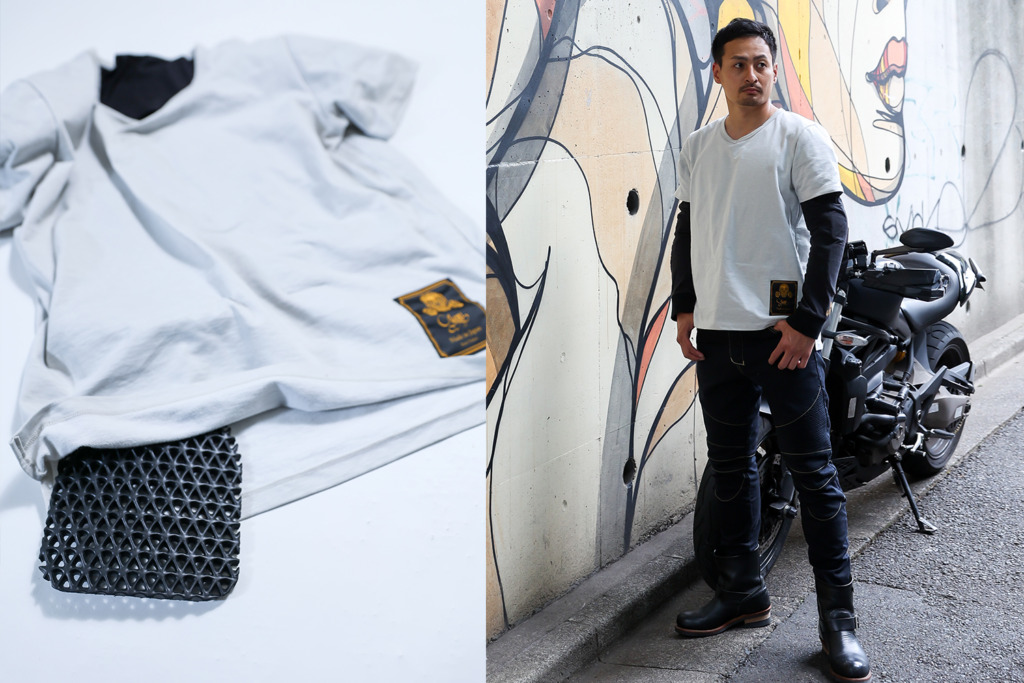 Hello. Our brand Yami has a wonderful everyday life, "there is a bike anytime, anywhere" We are planning various apparel to deliver.
This time, we have created a product that can live the summer lifestyle of a motorcycle while maintaining its usual appearance and safety. I planned a natural T-shirt and arm sleeve that looks as usual even though it has a protector.
Crowdfunding will start soon, so it will be an announcement of the product and valuable information if you know it in advance.
Issues focused on this time
I focused on the summer outfit. If you ride a motorcycle, do you have any troubles or experiences?
[1] Summer rider equipment with excellent safety is inevitably hot and deviates from everyday fashion
reference: komine Mr
It is very cost effective and very safe. On the other hand, the appearance is not everyday but professional. It's a little noticeable in the city and crowds, isn't it? And due to the mechanism, it is inevitable to get hot except when driving.
[2] I want to ride a motorcycle coolly, but a T-shirt is dangerous
Quote: motorcycle-soul.com
In the open summer, you should avoid wearing thick clothes and feel free to ride a motorcycle. T-shirts and Harleys are very cool, aren't they? (I personally love it.) However, if you fall, you cannot avoid great damage. This time, I planned a product to solve this problem.
[This project product is Riders T-shirt & arm sleeve]
● Plan 1: Protector in Riders T-shirt
The first is a T-shirt for bikers that allows the protector to freely enter while making it look like an orthodox T-shirt.
The biggest feature is that even if you put in a protector, you can produce an atmosphere that is almost the same as a normal appearance. The model above is actually taken with the protector inserted in the T-shirt. You don't understand at all?
The protector fully guards not only the chest, which accounts for most of the causes of death, but also the back, shoulders, and all directions.
And the super heavy ounce "CORDURA®︎" fabric is used. The fabric with excellent abrasion resistance protects the body from the friction of asphalt even if it falls. A high-performance fabric that also has the functions of penetration and quick-drying.
● Plan 2: Protector in arm sleeve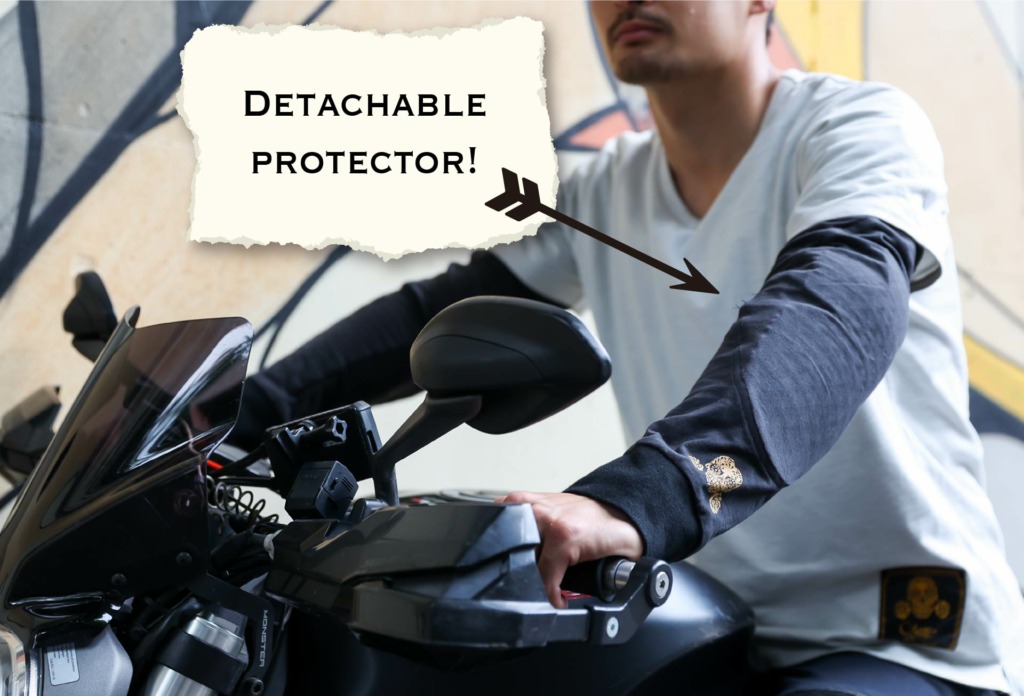 At the same time, a protector in arm sleeve that covers the elbow, which is a weak point of T-shirts, is also planned. An arm sleeve that can be easily attached to increase safety.
Of course, CORDURA®︎ fabric is used, and it has better abrasion resistance when it falls than normal fabric.
Points of both planned products
The following are the points. Anyway, I aimed to be able to spend a lifestyle with a summer bike casually in a normal style.
Feel free to add safety even in the summer as usual! A T-shirt that looks natural even though it has a protector
Minimal damage to your body even if you fall on asphalt! Heavy ounce "CORDURA®︎" fabric with excellent abrasion resistance
Water absorption and quick drying for the harsh summer environment! A comfortable bike lifestyle at any time
Feel free to travel the best on your bike in the summer
First of all, I planned this product because I wanted to have the best trip on a motorcycle in the summer.
When it comes to increasing safety, summer bike fashion tends to look more authentic than general fashion. It doesn't matter for this product. You can enjoy it as usual without changing clothes.
About crowdfunding start time and early discount information
Crowdfunding will start from the beginning to the middle of July, and will be shipped around the middle of August. The production is in progress because it is already near the summer production.
Crowdfunding will be held at Makuake in Japan and at Kick Sterter overseas. The first 5 people each will be offered at a 20% discount from the selling price.
If you are interested, please follow one of the following SNS. We would like to update the SNS from time to time and send you information as soon as it is released.
I think there are many people who have similar problems with summer bikes. If you are interested, please enjoy this crowdfunding.